We strongly support our cryosurgery distributors and want to assist you in gaining new customers through our TKIT. Please ensure you have the TKIT stocked, which has a new professional look and more freezes per can! If you have any input or questions about our products, please feel free to contact us. Distributors and Sales Reps, please send suggestions to info@cryosurgeryinc.com.
We currently have free product information sheets that we can provide to your shipping department to place in outgoing supply fulfillment orders. These information sheets can help make your customers aware that you have Verruca-Freeze products in stock to help them generate more income through Cryosurgery. Free while supplies last. If you would like some of these complimentary information sheets, please contact us and include the amount desired.
Download our Product Images Here
not for print
500x500px png's
web optimized at 72 resolution
larger images available by request
Recent Distributor News
---
Dear Valued Distributor Partner: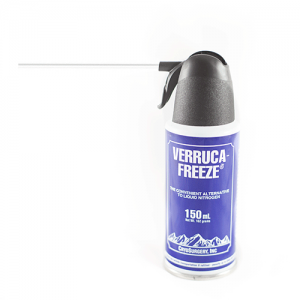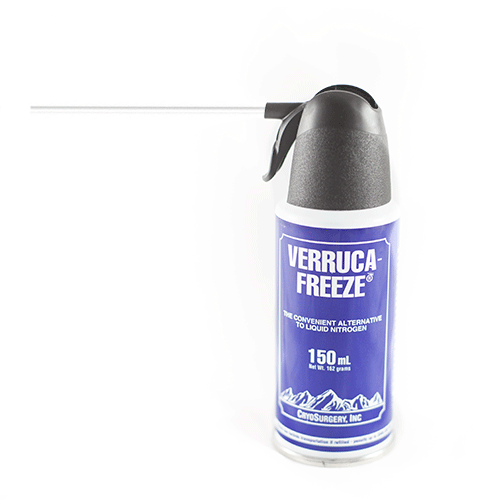 CryoSurgery takes pride in always striving to be better. Quality improvement is a never ending, ongoing project for us. We recognize that we must be the best we can be, so our distributors can be the best they can be. This is exactly why we are changing the look of our product.
We are replacing our current nozzle with a sleek new actuator.
The new improved nozzle dispenser has an enhanced appearance and a better feel.
Along with our pleasing new look we are also adding more Cryobuds to our kits.
The 50 Freeze Kit (VFK50) along with the 65 Freeze Kit (VFK65) will now include 50 instead of 30 CryoBuds. There will be 20 Large, 20 Medium, and 10 Small CryoBuds.
The Introductory Kit (INTRO) will now include 30 instead of 15 CryoBuds. There will be 10 Large, 10 Medium, and 10 Small CryoBuds.
Prices for the 65 Freeze Kit, 65 Freeze Canister, and 100 Freeze Canister have all been reduced!
In the next few weeks, your physician and healthcare customers will begin to see new graphics start appearing on all of our products.
Lastly, we are adding more freezes to our canisters.
The Introductory Kit (INTRO) will now include 135 ml as opposed to 120 ml per canister.
The 65 Freeze Kit (VFK65) along with the 65 Freeze Canister (VFC65) will now include 175 ml as opposed to 162 ml per canister.
This will increase the number of freezes by 5-6 when using our CryoCones or 10-12 when treating multiple lesions using our CryoBuds.
CryoSurgery is constantly working to provide consumers with the very best quality product.  We appreciate all of your services, and we look forward to your future purchases.
Respectfully,
Your Cryosurgery and Verruca Freeze Sales Team